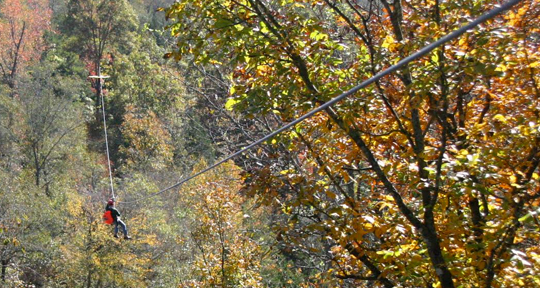 Pricing
Option 1:
Zipping 5 lines over Mill Shoal Creek and the Big Finale up the Broad River is $49 (normally $59, reduced price because last line is closed for repairs due to flooding.)

Option 2:
Zipping all 10 lines over Mill Shoal Creek and the Big Finale up the Broad River is $69 (normally $79, reduced price because last line is closed for repairs due to flooding.)

Gift Cards: Buy online
Location
The Sandbar
3435 King Hall Mill Road
Bowman, Georgia 30624
---
What is a zip line canopy tour?
Come experience the best georgia zip line canopy tour! Imagine flying through the air and experiencing the wildlife that the forest has to offer and the trees in a completely different perspective. A zip line canopy tour takes you on a close personal experience with nature. After checking in, meeting your one-of-a-kind guides, gearing up and completing final safety checks, you enter into the forest by zipping from tree to tree – high up in the tree canopy! You will soar through the air effortlessly and you will never forget the beauty of the breath taking views of the waterfalls on Mill Shoal Creek and the ride of your life up the Beautiful Broad River
Are Go-Pros allowed?
Yes, you may bring your own go-pro.
How many lines do you have?
Our zip line canopy tour is composed of 10 separate lines that zig-zag across Mill Shoal Creek on the backside of The Sandbar property, lines connect tree-to-tree or tree-to-ground. For years we've been looking for a way to bring the untouched beauty of this area to patrons and a zip line offers amazing views and an eco-friendly tour.
The Big Finale (1400ft) is our dual zip line over the Broad River. Race your friend down at speeds up to 40 mile per hour!
Are there any requirements or restrictions?
The minimum age for participation is 10. For lines 1-10 a minimum weight of 70lbs is required, for the final line the minimum weight is 100lbs. (Guests under 100lbs who cannot ride the final line will be transported via shuttle back to the Sandbar) The maximum weight is 250lbs for all lines. All participants must be of average mobility and strength and in good health. Women who are pregnant or think they could be pregnant should not participate. All zippers will be discreetly weighed upon arrival and any person not meeting weight requirements will not be allowed on the tour and no refund will be given. Guest should be physically fit to jump, climb, and hike and prepared to participate in an outdoor adventure. Women who are pregnant may NOT participate.
How safe is a zip line canopy tour?
The Sandbar Canopy Tours has been designed and built to meet and in most cases exceed the professional standards set by the Association for Challenge Course Technology and all guides have been trained by an ACCT certified instructor. Course and equipment are inspected every morning by guides.
What form of payments does The Sandbar accept?
We accept Cash and Visa, MasterCard, Discover, and American Express Cards.
Should I tip my guides?
Sure, but it's not required so please don't feel obligated. Your guides work hard to make sure you have a safe, memorable tour. If they succeeded, feel free to reward there effort!
What if I've never done a canopy tour before?
Awesome!! No Worries. We commend you for trying something new. Our guides have been trained to help new zippers feel at ease. Just follow your Guide's directions and you will do great. Most likely, you are not alone! There is a big possibility that there are others in your group who have never zipped. We have a practice line that everyone will practice on before starting the tour. We do this, so that you are able to practice braking before starting your tour.
Do I have to sign a release waiver?
Yes! You can download the release waiver. We also have copies available when you check in. If you are under 18 years old and not accompanied by your legal guardian or parent, you must bring a signed copy with you the day of your tour. All minors, who do not have a signed Release Form with them the day of their tour, will not be allowed to go on the tour and no refunds will be given. If under the age of 13, the participant must be actively accompanied by an adult on the tour.
What should I wear?
Closed-toed shoes with a secure back (no slip-ons) are required. Comfortable clothes that are easy to move around in (pants or shorts are required, no skirts or dresses). You will NOT be allowed to go on the course and there is no refund for not having on the appropriate shoes or clothing!

Shorts can be worn, but make sure they are long enough so your harness leg straps don't rub on your body. If you have long hair, it has to be pulled back and if you wear glasses – make sure you secure them with a strap. Jewelry—earrings are not recommended but small studs are ok, no hoops or dangling earrings. It is advised that rings be left at home, gloves will be worn by all participants but we have found that the friction that occurs when braking can be uncomfortable when wearing rings. If you bring a camera, make sure it has a strap. Do not carry anything in your pockets (except cargo pockets that close), all valuables, cell phones, wallets etc should be left locked in your car—we will hold your keys for you. Dress for the weather, multiple layers are recommended during the cold!
Can you accommodate large groups?
Yes, we can! We pride ourselves on making your group tour arrangements as easy as possible. We can scale with staff to meet the specific size and needs of your group. Learn more by emailing us at thesandbarbroadriver@gmail.com or by calling us, (706) 245-4163. Ask us about, catering your group event. Your reservation must be paid in full prior to arrival and using only one credit card.
Do you operate in the cold and rain?
Our canopy tours run rain or shine, in all weather conditions unless extreme winds, snow, freezing rain, heavy rain or lighting interfere with operational safety. The Course Manager on duty will determine our cancellations, and guest may be notified at any time regarding cancellation In the event that your tour is cancelled by The Sandbar, you will receive a full refund or rain check voucher depending on the circumstances . We reserve the right to postpone (or pause) a tour for up to one hour to wait on inclement weather and then resume normal operations.
Will I be in a group with my friends/family?
We have 8 participants per tour group, but will accommodate 10 if needed. So, if you have less than 10, you might have others in your group you do not know. Don't worry about it though; we will all be friends by the end of the tour. If you have any questions or concerns, feel free to contact us by phone (706) 245-4163 or email thesandbarbroadriver@gmail.com.
When do I need to arrive for my tour?
Please arrive 30 minutes prior to your scheduled tour time. This will allow enough time to check in, use the restroom, step on the scale to be weighed, meet your guides, get your equipment on and prepare for your tour. Late participants may not be able to join their group and NO refunds or vouchers will be issued for late or no show participants.
Are reservations required?
Yes. At this time reservations can be made by phone (706) 245-4163 or email thesandbarbroadriver@gmail.com
What happens if I am late for my tour?
Call us and let us know (706) 245-4163. No refunds or vouchers are given for late arrivals. If you arrive late and we have to start your tour without you, we'll make every effort to put you on a later tour. We ask you to arrive 30 minutes prior to your reserved tour time to allow for check-in and tour preparation.
Do you offer any discounts?
Military—We offer a 10% discount for military personnel. Must present a valid military I.D. May not be combined with any other discount or promotion.
Cancellation Policy
All reservations are charged in full at the time of booking. If you need to cancel or modify your reservation, you are required to notify us 72 hours prior to your scheduled tour. Cancellations or modifications made within 72 hours of tour are not eligible for refund.
Reservations are considered final 72 hours prior to your scheduled tour, and are not eligible for a refund or rescheduling. A $10 handling fee will be deducted for each refund.
The Sandbars right of refusal
The Sandbar reserves the right to refuse anyone access to the tours if we feel it would be unsafe for them, our other guests or our staff. Some examples of someone we might turn away would be a guest under the influence of drugs or alcohol, someone who is over the weight limits, someone that will not or cannot understand or obey the rules, and those who are physically unable to do a zip line canopy tour.
We do everything in our power to get guests out on a tour and give them safe access to our tours. However, The Sandbar and their staff will have the final say on any participant going out or continuing on a tour. You will be required to sign a liability release form before going out on the tour. If you would like for us to email a copy to you, just call or email us your request. Minors must have a parent our guardian to sign this form. The minor must sign the waiver also. Email thesandbarbroadriver@gmail.com